Linda Kreter and Military Network Radio presents:
VA Caregiver Support Program (CSP) Progress with Executive Director Dr. Colleen Richardson, PsyD and Deputy Director Mr. Tim Jobin, LCSW

–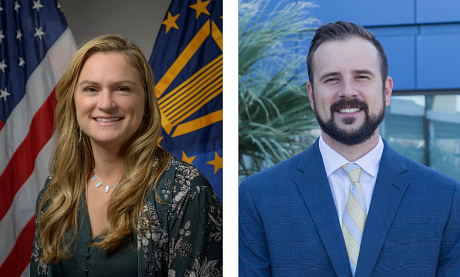 Linda Kreter and Military Network Radio speaks with
Dr. Colleen Richardson, PsyD
(Executive Director) and
Mr. Tim Jobin, LCSW
(Deputy Director) about the significant and ongoing progress in Caregiver Program team building and cohesion in the Department of Veteran Affairs Caregiver Support Program (CSP).
Upon arrival at VA 16mos ago, Colleen hit the ground running, initiating listening sessions with Caregivers, VSO/MSO organizations, and widely with VA staff to learn what specific priorities existed. When Tim joined 13mos ago, he also joined with immediacy and attention to the tasks of recognizing and identifying needs of Caregivers. Knowing that caregiving in a pandemic added a layer of urgency, they used this opportunity to emphasize the acute importance of taking care of the Caregiver.
Progress is measurable. There has been a cultural shift by inclusion of staff experiences, and a focus on standardization, clarity, and two-way communication. Receptivity by Caregivers as viewed on social media groups, and in listening sessions show how this shift is appreciated. Caregivers are being heard and understand Progress rather than Perfection. Mental health care hubs will be rolled out per VISN in early 2023, Wellness checks are now concise and roughly 30 minutes long, with a focus on the resources a Caregiver may need, and the Caregiver Travel Pay portal is now updated for ease of use and reimbursement.
Most are aware of the Legacy Caregivers' extension in the program, and work continues diligently on former and new applications that began Oct 1st to include all eras. In the VA portal at www.Caregiver.VA.gov, new sections are updated for more information on applications, criteria, appeals options, and more are coming. On March 25th, 2022, VA lost a court case to Veteran Warriors regarding Supervision, Protection, and Instruction (SPI). VA then reverted to the original statutory language, effectively supporting more Caregivers who address invisible injuries and acceptances are rising.
The current fiscal year has four goals: Enhanced mental healthcare for Caregivers, Respite Care Liaisons (working title) to provide needed Caregiver support and peace of mind to the Veteran, creating an exceptional Caregiver/Veteran experience, and continuing work on refining the eligibility criteria and assessment process to best serve all eras. Staff are excited and eager to help, momentum is building in trust in the system, and the transparency is very positive and engaging.
Thank you to VA for providing time for this valuable outreach by our guests!
Click here to download the show: https://bit.ly/MNR-VA-CaregiverProgramProgess, or click below to listen live. Also, on iTunes, Spotify, Google Play, Stitcher, and other outlets. Air date 18Oct2022.