Military Network Radio and Linda Kreter presents:
Combat TBI and the Family

–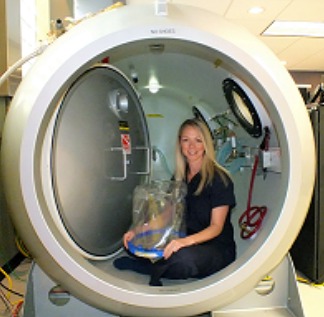 Traumatic Brain Injury is still seeking a "standard of care" to include therapies such as Hyperbaric Oxygen Treatment (HBOT) and goes beyond the initial "rest and accept" theories. Guests
GySgt Chuck Rotenberry
and his caregiver wife,
Elizabeth Rotenberry
have seen remarkable physical and psychological results from HBOT. The Rotenberry's have started a non-profit to raise funds for other injured veterans called Walking Point for PTSD and TBI with more information here: (
https://www.facebook.com/WalkingPointK9/
).
Cara Mae Melton of the Hampton Roads Hyperbaric Therapy Center shares how assisting veterans with HBOT is growing as the veteran (and often directed by the family) takes treatment choices into their own hands. Please research complementary and alternative therapies that best suit your family; pushing the limits is proving providential in many cases.
Click here to download the show http://bit.ly/MNR-CombatTBI, or click below to listen live. Also available on iTunes, Google Play, Stitcher, and other outlets. Air date: 04Jul2017.