Military Network Radio and Linda Kreter with Co-host Sandra Beck present a Specialty Show sponsored by K12, the leader in online K-12 education:
One Family's Journey and New Joy
–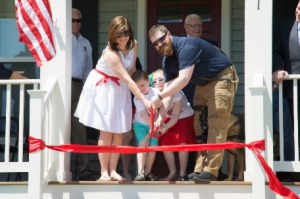 The Goodrich Family of Virginia have triumphed over many challenges – a familiar situation for many military families. Milspouse
Jacqueline Goodrich
and 8-year old daughter,
Lucy
, share their remarkable story of strength, optimism, and perspective.
Veteran Michael Goodrich was injured in Afghanistan and medically retired with visible and invisible injuries, and wife Jacqueline became his caregiver. When their son Tag was days old, and daughter Lucy five years old, mom and children were involved in a serious car accident, causing trauma for each, and TBI for Jacqueline. With both parents needing frequent appointments for medical care, and a grueling schedule, education options were needed.
Virginia Virtual Academy (VAVA), a tuition-free online public school powered by K12 Inc., the nation's leading provider of proprietary K-12 online curriculum and services, delivered the educational continuity, flexibility, and support the family needed; easing concerns and making a marked difference for their family. With online teachers, individualized pacing, and offline tasks and field trips, Lucy loves History, reading — and learning.
Another wonderful experience changed their lives forever: the Goodrich's received a custom-built, mortgage-free home from Operation Finally Home, including a school room for the children. During the framing of the house, hundreds of "Letters of Love" from family, friends, teachers and one from K12 CEO Stuart Udell – further acknowledged and affirmed the family's contribution and sacrifice.
Jacqueline puts it this way: "One act of terror caused thousands of acts of love". Thank you to Jacqueline and Lucy for sharing their story, and K12 for providing remarkable educational support. Enrollment is open for 2017-2018, and more information may be found at www.K12.com.
Click here to download the show http://bit.ly/MNR-Goodrich, or click below to listen live. Also available on iTunes, Google Play, Stitcher, and other outlets. Air date, 01Jun2017.