Military Network Radio with Linda Kreter and Co-host Justin Constantine presents:
ALS in the Military
–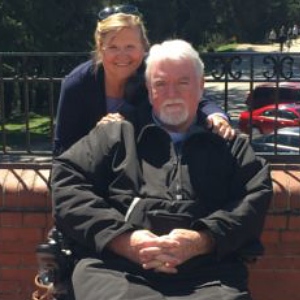 Author, photographer, educator, and military spouse, Mary Hahn Ward shares her perspectives on life after a diagnosis of ALS (or Lou Gehrig's Disease) for her husband, who served in the Marine Corps.  This is an insidious and progressive, neuro-degenerative medical condition and one recognized by the VA as "presumptive" and service-connected.
Not much is known about ALS since the first case was diagnosed over 135 years ago, though research is ongoing and strong, as evidenced by the Ice Bucket Challenge where many participated.  Yet, with the prevalence for veterans twice the average in the civilian population, there are many suppositions.  (In ALS, the peripheral nerves in the body begin to deteriorate and growing paralysis makes life challenging for the entire family.)
Mary will share how hope still thrives though this disease is always fatal, how she and her husband keep their sense of humor alive, and what to expect if you are a veteran or a family member of someone with ALS.  The silver lining, if there is one to be found, is the ability to live life "in the moment" as fully as possible for as long as possible and to say goodbye with love. Click here to download the show: http://bit.ly/ALS-Mil or click below to listen live. Also available on iTunes, Google Play, and Stitcher. Air date, 03Jan2017.